Adventures of
Allahman!
: Hello Boils and Ghouls! How are yous?!
Come gather around Poppa Ahreeman,
Lets all together, cuddle under the hot korsi.
Are yous ready for another Heroic tale of Bang O Salavat?
Then lets roll .............
Mull-Shiite Comics presents:
A Night in Mullah-City!
:It is another hot sinful night in Mullah-City. Villains and Super Heroes are bound to have a rumble! And our story starts in the Evil den of the Ex-president ..........
Dool-ol Eslam Khayami:
Fools, you got rid of me too soon! Didn't even give me the third chance!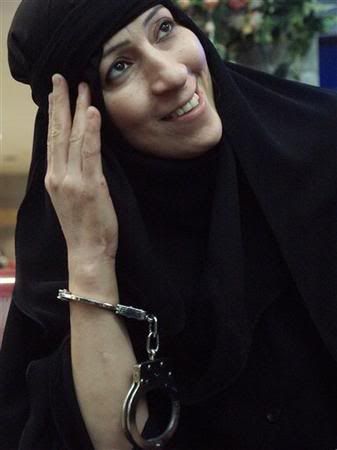 Iranian Women:
2 Terms and we are still enslaved! May Shiite falls on your legacy!
Imam:
Hello Hello, Islamic Police Headquarter? Connect me to the Zeynab Operator Division? Hello Operator, SOS, Umma' needs hope, call Allahman for rescue!
Sakineh:
Hello Hello Allahman? Cape Crusader of Mullah-City, Savior of Mullahcracy, Umma' needs a boost! Emergency, HELP?!
Allahman:
Not to worry Zaifah, Allahman to the rescue. For now, let me grant you one of my famous smiles! Let me pose for the cameras! Later, I will save and cherish The Testicle of Islam! Towards "The Great Nuclear Shiite Empire", Miran moves! Hip Hip Talley Ho & a bottle of Vodka! Ya Allah!
:And @ the background fades away the Chorus sound:
: Allah O Akbar, Khomeini Rahbar, Allah O Akbar, Khomeini Rahbar ................
Once again our Cape Crusader saves the,
"Night" & the "Testicle of Islam"!
: Until our next story, keep safe & don't let the Allahic Bed Bugs, bite!
Created by,