Save Nowruz (Persian New Year) Now!
Save Nowruz Campaign
IPC Announcement
Save Nowruz or become another Arab Nation!
One hand has no noise, let's join hands!
(Yek dast seda nadare, hame yek seda beshid!)
As an Iranian, the least that you can do for Iran,
is to read this announcement, spread the word,
and send a lousy E-mail to Google!
Iranians, Force Google to Recognize Nowruz



We are spreading the word all over the world.
How can you help?
- Read this announcement and act upon it.
- Send the link to this article to everyone you know.
- Post the link to this article in all Iranian Forums.
Link to this article:



Save Nowruz (Persian New Year) Now!


http://www.iranpoliticsclub.net/club/vi ... php?p=3453


All Iranians:

Persians , Kurds , Azeris , Baluchis , Tajiks , Afghans, Turkmens, Uzbeks, Others .......

27+ years of Islamization of Iran
27+ years of Arabization of Iran
27+ years of teaching lies in schools
27+ years of Brainwash
27+ years of losing your national identity
27+ years of destroying your Persian Holidays
27+ years of Terror
Now they want to destroy Nowruz!
Stand up for your identity now!
Take a stand Now.

Month of March is the "Persian Cultural Month" (originally an IPC Tradition). On March, we take a stand to save our culture. Check Month of March:



IPC Calendar


http://www.localendar.com/public/AhreemanX

During these crucial days in which Islamic Republic of Iran is planning to destroy Nowruz and replace it with Qadir-Khom (when Mohammed raised Ali's hand and nominated him as his earl), we must take action. Iranians must take action because IRI is about to destroy our culture. IRI is about to destroy our language, traditions , culture and now our celebrations! IRI is Arabizing Iran! Read and see what's in the oven for Iran,



Ayatollah Khaz'ali on Nowruz


http://iranpoliticsclub.net/club/viewtopic.php?t=835

It is your national duty to keep Iranian Traditions and Nowruz alive. Let's all together, force Google to recognize Nowruz.

Suggested Samples: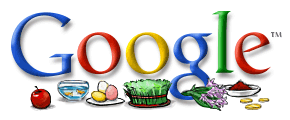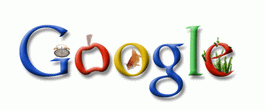 So what can you do?





1.

Auto


Go to this site and send an E-mail to Google:


http://www.esfahanhost.com/nowrouz/
or


2.

Manual


Go to this link


http://www.google.com/support/bin/request.py
Click on:
"I don't want a response, I'd just like to say..."
then copy/paste below text and send it to Google.
_______________________



Suggested Text:
Logo For Happy New Year ( Nowrouz )

Dear Google Team,
We will be so grateful if Google would do us a favor and display special logo for the Persian New Year's celebration (Nowrouz) on its main page on March 20th and 21st.
Nowrouz is the first day of the solar (Hegira) calendar (on the vernal equinox) and is the calendar's most important event for many nations of the middle-east & central Asia

I am sure all of them will be impressed and appreciate this act of Google.

To view Example LOGOs, please refer to this address :
http://www.esfahanhost.com/nowrouz

Sincerely yours,
looking forward to hearing from you,
All Persian Google users
______________________________
Regards,
IPC Office