Iranian Islamist Propaganda Music Videos of Hamed Zamani
Shiite Islamic Propaganda Pop, Persian Style!
Iranian Islamist Pop Singer
Ahreeman X
March 3, 2018
IRI's latest tactic to export the Shiite Islamic Revolution to all over Middle East and the globe is via Pop Music songs, music videos and live concerts. One of the best-selling "Islamist Pop" Stars of all times is Hamed Zamani. His music CDs and DVDs are very popular amongst the Muslim Youth and his concerts are jam packed both by boys and girls.
Hamed Zamani wears "Down with USA" T Shirt, throws jam pact live concerts both indoor and outdoor and blasts the young audience with his deeply emotional, religious and rhythmic Islamist Revolutionary Songs. His music style is a mixture of Pop, Rock and Traditional Shiite Mourning Songs.
Hamed Zamani music is deeply Anti USA and Anti-Israel. His music is pure Shiite Islamist Propaganda blessed by IRI (Islamic Republic of Iran) and produced for mass export around the Middle East.
Hamed Zamani albums are amongst best sellers not only in Iran but all over Middle East. One of his best sellers albums is "Mikoshim" meaning "
We Kill
"! One of his bestselling songs is "Marg Bar Amrika" meaning "
Death to America
"
Hamed Zamani is a known face and major pop star all over Middle East, extremely popular amongst the Jihadi Youth, specifically inside Iran and inside Iranian Satellites such as Lebanon, Syria, Palestine, Iraq, Yemen, Bahrain and so on.
Hamed Zamani born in March 1988 is IRI's latest phenomenon produced by Ministry of Islamic Guidance Ershad. Hamed Zamani started with Noheh Khani (Mourn Singing) and Sineh Zani (Chest Banging) songs for Ashura and then he kicked it up a notch and become a Pop and Rock singer.
Ashura, this is Shiite Islam
http://iranpoliticsclub.net/animation-g ... /index.htm
Today, Hamed Zamani is the main Islamist Pop singer in Iran and Middle East. Hamed Zamani is a Shiite Symbol Role Model for Jihadi and Islamist Youth. His music videos are emotional, religious, inspirational, action pact and pure propaganda productions aided by Ershad Ministry.
Hamed Zamani fills auditorium and concert halls pact and throws live outdoor concerts in park full and outdoor venues jammed with thirsty Muslim youth.
Hamed Zamani videos are Jihadi, militant, Islamic and musically rhythmic or deeply inspirational and religio-romantic.
Iran Multimedia
http://iranpoliticsclub.net/multimedia/index.htm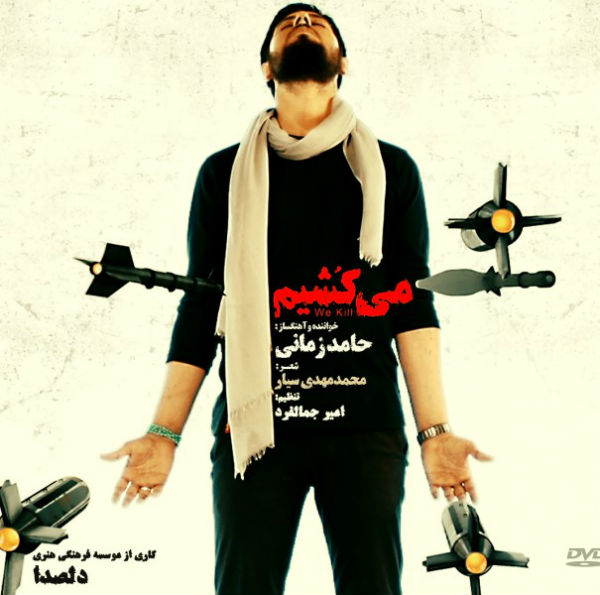 Music Video
Shield (Separ)
https://youtu.be/6l0GIaJ0Avc
This Land (Amar Dare in Khak)
https://youtu.be/ffLAJeqoFZA
Death to America (Marg Bar Amrika)
https://youtu.be/XgwD1E1ESQM
Death to America - Live
https://youtu.be/1Nt65egmuVU
Muhammad
https://youtu.be/iW_m42vONzc
Islamic Revolution - Live
https://youtu.be/w7q0APsXGBY
Amir Momenin Imam Ali - Live
https://youtu.be/5qM6lWrhF98
I Write - Minevisam
https://youtu.be/oyhSPzS0DFw
Labayk
https://youtu.be/Q3lmisBrcBE
For My Leader Imam Khamenei
https://youtu.be/tiRDYPz0eow
Moon Upon the Spears
https://youtu.be/zsx8TVVJPKo
Ma Miravim
https://youtu.be/VmZcR6HC-3o
Rafigham Hossein
https://youtu.be/OrQMcTZVyJ4
Soraya
https://youtu.be/lsXutbigb-A
We are Jihad
https://youtu.be/b0OQ2YzsaoQ
Lady Without a Shrine Ya Zahra
https://youtu.be/g_zBBcznlCE
Begoo Na
https://youtu.be/Q0dC0GHWpms
Singing with the Storm
https://youtu.be/-hWMh71Vuk0
Ya Rab
https://youtu.be/phC5BMeGcAs
Documentary
Press TV
https://youtu.be/GaPcO_6X1pA
Sites
Website
http://per.hamedzamanimusic.com/
Facebook
https://www.facebook.com/Hamedzamanimusic/