Shiite Islam, a history in pictures!
Warning: This article & photos related to it are very graphic & highly Toxic & Infected with The Allahic Virus!
The Allahic Virus!
From generation to generation, it moves, flows & transfers like a virus in which eats the thinking mind, alive! Welcome to Shiite Islam!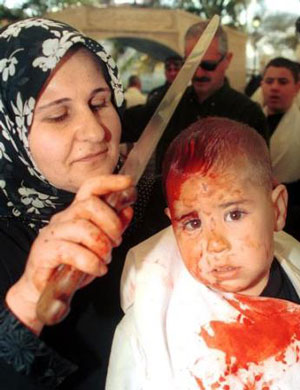 "Ashura Mourning"


A Mother gladly cuts her child's head to feel the pain which Imam Hussein felt when he martyred 1200 years ago!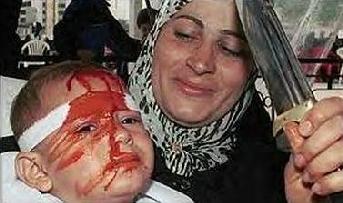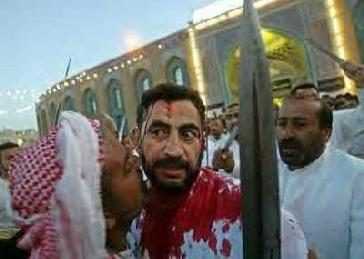 "Shiite mourning of Ashura"


Getting ready for Martyrdom, Hezbollah Martyrs on the march, cutting their heads, banging daggers to their heads, banging chains to their backs! Why? Cause an Arab Bandit called Hussein, died 1200 years ago!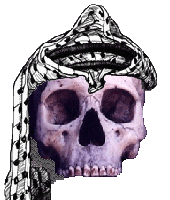 Shiite Islam = Culture of Death
Introduction
At first, I wanted to write a lengthy article about this issue, yet I have decided on simply to explain the issue via photos. The best way to explain everything you want to know about Shiite Islam would be for me to display these valuable photos for you.
You might also hear (as you always do), from "Islamist Apologists", on how these fine arts named below, are not practiced in Iran & they are illegal in Iran & they are not recommended in Quran & 1001 other appologies & excuses & diversions .......
Oh Iranian Shiites are civilized & we don't do such ........
Oh Iranian Shiite's Shiite does not stink such ...............
Bla bla bla ...........
Here are some of the fine arts practiced by good Shiite Muslim during Ashura & Tasua, while they mourn for the loss of some Arab Promiscuous Bandit (Hussein) in an internal political struggle, rebelling against the legal Arab Regime of the time (Yazid's Regime):
Fine Shiite Self Mutilation Arts

Dagger Banging (Qameh Zani)
Chain Banging (Zanjir Zani)
Head Banging (Tu Sar Zani)
Child Cutting (Tiq Zani)
Chest Banging (Sineh Zani)
Faint Collapsing (Qash Zani)
Breast Banging (Mameh Zani)
etc.
Now a bit historical background,
The Shiite Creation of Amazing Tales!
Tale of Imam Hussein
Over a millennium ago Hussein & 72 of his followers rebelled against the legal regime of the time (Bani Ummayid's Caliphate) to take over & control the government of the Arab Caliphate. Yazid The Caliphate via his General "Shemr", slaughtered these rebels. Eventually through the years of colonialism under the Arab Caliphate, Iranians have created Shiite Islam & glorified the ancestors of Muhammed & Ali. So:
Hussein, a Promiscuous Arab Bandit of Caravans with 1000 Wives and Concubines who mass murdered Iranians (In Arab Invasion of Iran, Hussein with his brother Hassan, committed a genocide in Neyshabour & practically mass murdered the complete male population), became a Saint (Imam)!
Other thugs & ignorant followers became Shiite Holy Saints (Hazrat-e Abbas).
Amazing Epics & stories & episodes been created! Tales such as "The tale of the 2 Innocent children of Muslim" (2 Teflan-e Muslim), The tale of "Muslim ibn al Aqil" & etc.
So Hussein & his followers became Holy Saints of Islam. But Yazid, the legal Sunni caliphate of the land, a scholar, a poet, a wise man, became the Evil Thug!
Iranian Shiites are amazing! They have such elaborations & wild imagination for theatrics, tales of non existence, Epics of Glory & Creation of Amazing Tales out of their butts! Here are some more of them.
Tale of Hazrat-e Fatimah
For Allah's sake, recently I have heard from a high IRI Official of the Agriculture Ministry in Amol, that now they mourn the Death Anniversary of Fatimah! Hazrat-e Fatimah, Ali's wife's death is now an Iranian Official Holiday!
There are a few historical problems with this:
I.
Fatimah was not Muhammed's Daughter. She was Khadijah's (one of Muhammed's 21 Wives) Niece & Muhammed's Adobted Daughter. Muhammed had low sperm count & could not impregnate anyone. Muhammed did not have a child. He had an adopted daughter (Fatimah) & an adopted son (Zeyd).
II.
Fatimah was never murdered, martyred or died in a holy Battle (Jihad)! Then how the hell can she be a Shahid (Martyr)?!
But in today's Iran, Fatimah becomes a Holy Saint, one of "5 Tan" (one of 5 Major Saints of Islam), & furthermore, she becomes a Martyr & they mourn her martyrdom!
I am telling ya, only in Iran & only Iranian Shiites can create such amazing historicaly invalid tales!
Tale of Bibi Shahrbanu (Bibi Shahrbanoo)
Another example would be Bibi Shahrbanu's tale! Shahrbanu, Yazdgird III's (last unfortunate Persian Emperor) daughter had played a long hide & seek game of runnaway from Hussein (3rd Imam of Shiite)! Shahrbanu was running away from Hussein due to the fact that Hussein wanted to marry her & rape her. Shahrbanu was a gorgeous woman & a great catch for Hussein that he could not resist her. Finally Hussein force raped her & force married her. After days of servitude, sex slavery & rape, Princess Shahrbanu escaped to mountains near Ray, hiding from Hussein & she eventually died there in hidings! Hussein made a great shrine for her casue she was his main passion & love. Next thing you know Iranian Shiite created a Love Epic out of this murder! Shahrbanu became Hussein's beloved & obedient good Muslim Wife who lovingly converted from Zoroastrianism to Islam & made great sacrifices for Islam & finally martyred in Mountains near City of Ray (near Tehran), known as Mount Shahrbanu!
In reality Shahrbanu was a faithful Zoroastrian, Daughter of Yazdgird III, a Persian Princess who despised Islam & spent a period of time running away from Hussein whom finally caught up with her escaping to Mount Shahrbanu. Eventually she died in Mount Shahrbanu hiding from Hussein in cold elevations of the mountains. In a way, she prefered Death over sleeping with hussein! But today, Mount Shahrbanu is a Shiite Shrine for the pilgrims to visit the grave that Hussein built & Shiite's reconstructed for the Great Feme Shiite Martyr of Islam, The Iranian Wife of Imam Hussein! Today, there are many Tours to the Shrine of Bibi Sharbanu departeuring from Tehran to Shahrbanu's tomb. Amazing Shiite Iranian Tales!
Adoptation of Imamate to Monarchy!
So, In a way Iranians have replaced the Iranian traditional inheritable system of Monarchy with the Iranian inheritable system of Imamate! Instead of one king inheriting the throne from his father, now Iranians invented for one Arab Imam to inherit the Sainthood from his father. Iranians had no choice but to come up with this strange episode! They could not have their own dynasties, because they were an Arab Colony (after 651 AD). So during those 222 years of Arab Colonialism & servitude of Arabs (651 AD - 873 AD), they came up with a way to legally resist Arabs & their culture. The genious idea was to show rebelion to Arab Caliphate by supporting Ali's (4th Caliphate of Rashedin) family as the rightful decendants of Muhammed (The Prophet). Therefore Iranians have created Saints (Imams) out of these Arab thugs & followed them & support them & crowned them as Iranian Imams in contradiction with Arab Caliphates of Baghdad (Ummayid & Abbasid)! So as you see, Iranians once more created their own system of Monarchy but with 2 major difference:
a)
The Monarchs in this dynasty were not Iranian but Arabs!
b)
The Monarchs wore Turbans rather than a Crown!
* Before (651 AD) Persian Monarchs wore Crown, Persian Hats, Persian Jameh (shirt), Persian Shalvar (trousers), Persian Shenel (cape) & Persian Sandels.
* Between (651 Ad - 873 AD) Persian elected (erected) Arab Monarchs (Imams) wore Qutrah (Arabic Head Scarf), Igal (Arabic Headband to hold the Qutrah), Dishdasha (Arabic Long Dress Gear), Aba (Robe) & Na'leyn (Islamic Flip Flop)!
So what's wrong with that?! Iranians managed to save their system of Monarchy, even if they had to nominate Arab Monarchs! Aren't Iranians amazing?! Praise Allah!!
For more information on those 222 years of Arab Colonialism in Iran, please read this book written by yours truly:
222 Years of Struggle for Independence of Iran (4 parts)
http://iranpoliticsclub.net/library/eng ... /index.htm
Safavid Era
Later on, specifically during Safavid Dynasty, Iranians have documented & established Shiite Islam as the official religion of Iran. Iranians had to contradict Ottoman Empire, the same as they been contradicting Arab Caliphate. So the best way to contradict these Sunni Muslim, was to create & Officialize Shiite Islam. So Iranians practically created Shiite Islam out of their you know where!
For Islamic Apologist's Information:
I.
All of these Ashura Traditions & Ashura Fine Arts of self mutilation, have been created in Iran by Mullahs, clerics & religious scholars of Safavid Dynasty (1501 AD -1736 AD). Ashura Self Mutilation have been created glorified, popularized & practiced by Iranians since Safavids. Iranians exported these fine traditions to Arab Shiite Nations such as Lebanon, Iraq, Yemen, etc. But the roots came from Iran, same as the roots of Shiite which indeed came from Iran.
II.
Ashura - Tasua Self Mutilation customs were illegalized (enforced by law) during Pahlavi Dynasty (1925 AD -1979 AD). Reza Shah The Great simply was a progressive Atheist, Anti Islam & against all these Islamic superstitions & customs.
III.
In today's Iran, Ashura - Tasua Self Mutilation Customs are not encouraged & recommended, yet they are not illegal (Generaly speaking), Even though some clerics emphasize in their illegality (not enforced by law). In todays Iran all of these self mutiliation arts are practiced; however, some such as:
Chain Banging (Zanjir Zani)
Chest Banging (Sineh Zani)
Head Banging (Tu Sar Zani)
Faint Collapsing (Qash Zani)
Breast Banging (Mameh Zani)
are widely practiced. But some such as:

Dagger Banging (Qameh Zani)
Child Cutting (Tiq Zani)
are only practiced in small towns & rural areas. Yet all are practiced & to some points, all over Iran. But I have to admit that the more we travel to Shiite Iraq, Lebanon, Palestine, Pakistan, India, etc., the more violent the Self Mutilations get! This is either because The Foreign Shiites are more sincere in their beliefs & Religion than Iranians! Or this is because Iranian Shiites are too comfort seeking, superficial and with Dual Lives (Religious Facade & Internal Corruption), to self mutiliate themselves! either way, the fact remains solid.
Once, we as a nation learn to stop the Arab Worship & Arabo_Muslim Slavery, & start to regain our own Persian Self Identity & return to cradle of civilization, that would be the Day of The Salvation of Iran!
Anyhow, this is Shiite Islam in pictures. I want to thank our comrade LOP for his hard efforts on this project. This was an IPC Production Project, specifically a combine work of LOP & myself. Please enjoy:
This is Shiite Islam
Ashura Project (5 parts)
http://iranpoliticsclub.net/animation-g ... /index.htm
May The Truth Shines Forever!
Amen
Sincerely,
AX