Jeff Bezos Retires as Amazon CEO at Age 57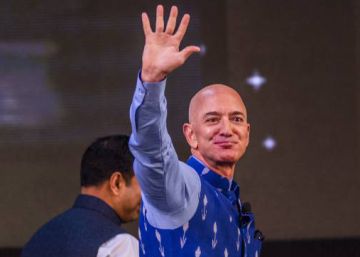 Jeff Bezos Amazon versus Trump MAGA, Battle of Billionaires Ben Garrison Cartoon
Lex Luthor vs. Superman!
Lex Luthor (Jeff Bezos) fighting with his limp WAPO Sword (Washington Post Rag-Paper) and his Amazon Shield, under the "Banner of Globalization" for his "Our Democracy" Shenanigan Crowd; while Superman (Trump) is fighting with his Straight Sword and Solid "Better Deals for America" MAGA (Making America Great Again) Shield under the Banner of America for his MAGA crowd. This will be a gladiator Battle of the Billionaires!
As Trump is looking more and more like Superman who is singlehandedly taking on the Washington DC Establishment, Liberal Establishment, GOP Establishment, Deep State Establishment, Media Establishment, Globalist Corporate Establishment, Wall Street Establishment, Academic Establishment and Hollywood Establishment; equally, Jeff Bezos of Amazon is looking more and more like Lex Luthor, his arch enemy who is trying to take over the world via his globalist agenda. Jeff Bezos, the richest man in the globe, now worth about $ 114.2 Billion, is trying to sell everything on Amazon by drafting monopolistic tactics, globalist practices, tax loopholes, cyber censorship, taking advantage of the USPS and dropping cost to the most efficient ways.
Jeff Bezos purchased the Washington Post for $250 million cash and now uses it as the Amazon Lobby and Anti Trump propaganda rhetoric rag-paper. At one-time, Washington Post had some prestige but now it is an Amazon Mouthpiece spewing lies 24 / 7.
I love it when Billionaires such as Jeff Bezos, Bill Gates and George Soros shed tears for the hungry African children and release rhetoric about wanting to end the world hunger! If they really meant it, then they could easily spend a few billions and truly end the world hunger! These leftist globalist monopolist billionaires, shed crocodile tears, while at the same time reduce the world's population via hunger, Disease and death; gain financial control; and monopolize the markets. For God's sake, Amazon has killed thousands of jobs and even mistreats its own employees.
The complete hoopla and charade of "Our Democracy" Movement shenanigan, blasting out loud from the globalist speakers and shouting puppets of Jeff Bezos such as his off-line lobby "Washington Post" and his online lobby "Twitter", accusing Trump of "Eroding Democracy" is a gimmick. It is all mob control, mind control, lobby votes and concentration of power into globalist monopolies to ride the masses and divert them like cattle, away from the facts and into slaughterhouses of globalism.
While Trump pushes MAGA for the American Workers; Jeff Bezos cuts corners, uses tax loopholes, abuses the bankrupt USPS by throwing him a bone rather than paying his fair share, to bring the cost down and kills the competition.
It is surely interesting to see what will develop in the upcoming months out of this Battle of the Billionaires: Superman vs. Lex Luthor!
*
Jeff Bezos Retires as Amazon CEO at Age 57
Jeff Bezos retires as Amazon CEO at age 57 and will become Executive Chair of Amazon. Andy Jassy will become the CEO. Jeff Bezos will not retire from running the rest of his empire.
Jeff Bezos started Amazon in the garage of his home as an online bookstore and turned it to the largest online retail store online.
Jeff Bezos net worth is now $184 Billion which is only second to Elon Musk at $188 Billion.
I have a long history of working with Jeff Bezos and Amazon as an associate, stockholder, customer and Ex reviewer. In fact my relationship with Jeff Bezos could be explained as a Love-Hate relationship. Even though I am a big advocate on Amazon Communities' cyber censorship, Amazon business practices and Jeff Bezos' politics, yet I shall always admire Jeff Bezos as a great inventor, fabulous businessman, cyber guru, marketing genius and a visionary.
Basically, I have been in some forms with Amazon since Jeff Bezos started Amazon. I will always respect Jeff Bezos as a super mind and a progressive visionary. I wish him the best in his future adventures.
Amazon ANTIFA Cyber Censorship & Espionage! + Cartoons Thread
viewtopic.php?f=25&t=2031
Jeff Bezos of Amazon, Now the Richest Man in the World! Thread
viewtopic.php?f=25&t=1995
Amazon started in 1994
Amazon went on public stock market on 1997
1997 Amazon shares started at $18.00
2021 Amazon Shares are at $3,405.28
Jeff Bezos Owned Companies
__________________________
Blue Origin: Rocket company
Kiva Systems: Robotics company
The Washington Post: Newspaper
Whole Foods: Grocery company
IMDb: Movie and TV programs database
Audible: Audio books company
Twitch: Live-streaming website
Zappos: Apparel and footwear website
Elemental Tech: Software company
Souq.com: E-commerce marketplace AKA 'Amazon of the Middle East'
Alexa: Web rankings and ratings website
DPReview: Digital photography website
Fabric.com: Online fabric store
Woot.com: Daily deals website
Goodreads: Website for readers and book recommendations
Amazon Silk Web Browser
Jeff Bezos History
https://en.wikipedia.org/wiki/Jeff_Bezos
Amazon History
https://en.wikipedia.org/wiki/History_of_Amazon
*
Jeff Bezos Steps Down as Amazon CEO
Breitbart News
https://www.breitbart.com/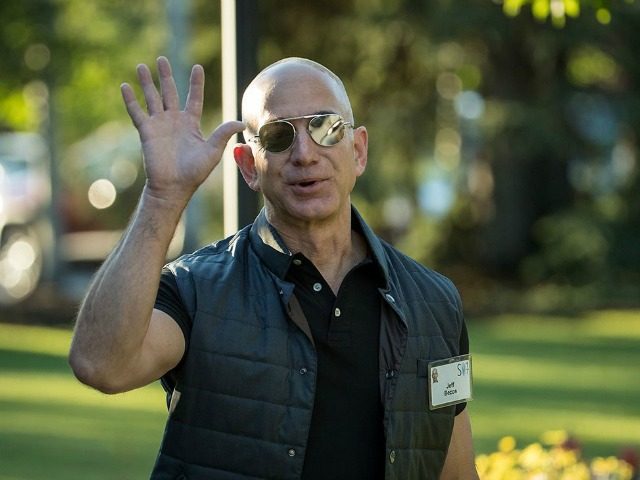 Jeff Bezos is stepping down from his position as chief executive of Amazon.
The company said Tuesday afternoon that Bezos "will transition to the role of Executive Chair in the third quarter of 2021 and Andy Jassy will become Chief Executive Officer at that time."
"Amazon is what it is because of invention. We do crazy things together and then make them normal," Bezos sound in the company's announcement.
Bezos continued:
"If you do it right, a few years after a surprising invention, the new thing has become normal. People yawn. That yawn is the greatest compliment an inventor can receive. When you look at our financial results, what you're actually seeing are the long-run cumulative results of invention. Right now I see Amazon at its most inventive ever, making it an optimal time for this transition."
Bezos founded Amazon in 1994 as an online bookseller. The company went public in 1997 at $18 a share with a market capitalization of $438 million. On the first day of trading, shares climbed as high as $30 and closed at $23.50. Last year, the company's market cap passed $1 trillion for the first time and it is now worth $1.7 trillion. Ten thousand dollars invested in the company in 1997 would be worth around $16.8 million today.
That rise, however, did not come smoothly. In those early years, the company's shares gyrated wildly. At the height of the dot com bubble of the late 1990s, Amazon's shares rose to $100 a share. Just two years late, in 2001, they fell to $5.51 a share and some were predicting the company would run out of cash.
'We are not profitable," Bezos said in 1997. "We could be. It would be the easiest thing in the world to be profitable. It would also be the dumbest. We are taking what might be profits and reinvesting them in the future of the business. It would literally be the stupidest decision any management team could make to make Amazon.com profitable right now."
Many Wall Street analysts were skeptical that the company could expand its business beyond books and one analyst predicted it was at risk of failing altogether.
In June of 2000, a 29-year old bond analyst at Lehman Brothers named Ravi Suria issued a report saying Amazon shows the "financial characteristics that have driven innumerable retailers to disaster throughout history." The share price fell 20 percent on the day the report was released. (An aside: Suria's career didn't suffer from this doomsaying. In fact, he was widely celebrated in the press, admired on Wall Street as prescient, and hailed as an "All Star" analyst by Fortune magazine. One year later, he was hired away by Stanley Druckenmiller of Duquesne Capital Management—who had recently left George Soros' Quantum Fund after taking large losses in tech stocks—where Suria managed a multibillion-dollar investment portfolio. In 2008, he founded his own hedge fund, Valmiki Capital, which is still going.)
"Look, they've shown us that the book business can be a very nice, profitable business online," Mark J. Rowen, a senior Internet analyst at Prudential Securities, told the New York Times in 2002. "The only problem is the book, video, music market is limited, and ultimately if Amazon is going to justify its market capitalization, it is going to have to show that other categories are viable on the Internet. So far, they have not shown that sales of other merchandise can grow rapidly and be profitable."
That summer, Amazon turned in its first profitable quarter, earning $5 million after having lost $2.8 billion since its founding.
Jassy joined the company in 1997. In 2003, he launched Amazon's highly successful Amazon Web Services unit, which he currently heads. Just over half of Amazon's operating income can be attributed to AWS.
The announcement came with the company's release of fourth quarter results. The company beat Wall Street's estimates on both sales and profits, with $7.2 billion in net income on revenue of $125.6 billion.
Related Articles and Threads
Amazon ANTIFA Cyber Censorship & Espionage! + Cartoons Thread
viewtopic.php?f=25&t=2031
Jeff Bezos of Amazon, Now the Richest Man in the World! Thread
viewtopic.php?f=25&t=1995
Iran & America Cartoons & Graphics – Ahreemanic Toons 2 Thread
viewtopic.php?f=22&t=2213
Tech Giants Cyber Censorship Cartoons Thread
viewtopic.php?f=22&t=2034
Amazon Censorship, the Final Verdict
https://iranpoliticsclub.net/politics/a ... /index.htm
Amazon Community ANTIFA Cyber Censorship!
https://iranpoliticsclub.net/politics/a ... /index.htm